George D. Hay
Mr. Hay's Philosophy "Keep it simple as sunshine"
The life of George Dewey Hay started in Attica, Indiana. Born November 9, 1895, died
May 8, 1968. He started out in public life at an early age. He loved the music he heard from different genres, he was a reporter for the Commercial Appeal at Memphis, Tennessee and in 1919 was sent on assignment to a small Ozark town of Mammoth Spring, Arkansas on the Mo/Ark line to report on a WWI hero who was killed in the war. While there he came across a man who lived in a box car and was a truck farmer, he had seven or eight children, the man was a fiddle player and invited George to a hoedown in a neighbor's cabin a mile out of town up a muddy road. With the fiddle, was a guitar and banjo which provided the earthy rythum, and about 20 people danced to the "crack of dawn" and he was so impressed with the local talent and the enjoyment the mountaineers were having, some seven or eight years later when becoming program director of WSM radio this inspiration at Mammoth Spring was responsible for the birth of the Grand Ole Opry. In 1925 Mr. Hay made the announcement that the program would be called the WSM Barn Dance, he had different people entertain on the program, his first was an 80 year old fiddle player, Uncle Jimmy Thompson, on December, 1927, he made the statement that it would be called the Grand Ole Opry. He continued managing until 1959 when he retired. Was inducteed into Country Music Hall of Fame 1966.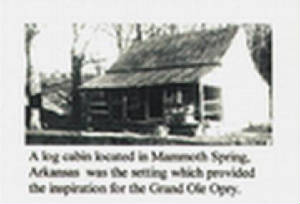 A log cabin located at Mammoth Spring, Arkansas was
the setting for the inspiration of the Grand Ole Opry